Free of charge, zero commissions, unlimited online orders
Overview
Getting a business online is a very powerful and inspiring idea. Any business owner or manager agrees that his/her company should do something online, to go online somehow. But when it comes to detailing what "online somehow" actually means, most brick-and-mortar entrepreneurs lose themselves into the woods of IT terminology and theoretical online concepts. We know this from our own painful experience in setting up Hail and the amount of Hoop jumping we had to do to get a very basic system. So we invested a lot of time, effort, tears and worry to get to a standard that we are now confident that will work for you. But before we do that we've decided to shed a bit of light on this matter. Here is where we try answering the most frequently asked questions, providing "online how to's" that a restaurant manager may consider if ever operating an online component for his business.
We'll take it easy and explain all you need to know step-by-step. After reading all this content you will be able to:
Conduct your restaurant online presence activities effectively
Know how to double your client base and frequency of ordering through online sales
Or at least order food online for you and your friends 🙂
We'll start from the assumption that you already have a restaurant or cafe business serving food in a dine-in way, or operate as a takeaway. If so, you should expand into the online space with one little piece at a time. The point is: start easy, start small.
Start by expanding your serving output with some pick-up business. Basically, you do all that you've been doing before but you also set-up a fast order counter and packaging food step.
Back To Basics – Are You Really Ready?
Nothing replaces good food, competitive prices, fast reaction, offering a clean service with a nice attitude. Without these key points very little would work.
In addition, think about the following points before you get started with online ordering.
Make sure your kitchen would be able to cope with an extra 50% of orders while still keeping with the average 15-25 minutes fulfillment time. Tweak your menu and dishes and break down your recipes in common semi-preparation steps to achieve a faster kitchen production flow. Look again to your raw ingredients and suppliers. Are they going to keep up the pace with you or do you need to make some partnering changes?
Once you've done all this…are you proud of your new kitchen setup? If so, don't just brag about it to your friends. Make this one of the key selling points of your establishment. Find out who is the hygiene & health review authority in your area and apply for a rating . Once you get your certificate, use this as a key promotion point in all your marketing communication.
For example, if you operate your business in UK you may go to http://ratings.food.gov.uk/ and register yourself in order to get a food hygiene rating that you can display on the premises and online. Customers search for this and it is a selling point.
Be special – Offer alternative packaging…
… that best suits your customer's profile. If you do delivery or pick-up, you know best who orders from you, but here are some examples:
extra insulation wrapping for those keen on preserving the food hot/cold as best served
metallic foil for those concerned of dioxin release of plastics in the food,
environment-friendly packaging for environment-friendly customers,
're-close/re-open' packaging for those that eat their food in 2 or 3 eating breaks,
special birthday/party wrapping, etc.
Such options may not be available on partner food portals that you work with, as they typically try to keep a standard ordering experience for all restaurants but you can definitely use these as differentiators and retention advantages on your own ordering offerings, and later on, for your own website.
These ideas are, of course, only the tip of the iceberg. Truth is, the sky's the limit to what you can do to improve your kitchen's productivity and efficiency.
If these tips were too soft for you, our friends from Alsco have gathered a pretty extensive list of strategies and advice you can get inspired from. Take a look >
Why Your Restaurant Needs An Online Presence
Indeed, just because everybody does something, it's not really a reason to try it too. But in this particular case, there is a very good reason why "everybody does it" and in order to decide whether or not to act upon it, you should at least know more about it.
Nowadays we are more connected than ever. Whatever question you might have, the answer will many times be: "google it!". I've just googled "where should I eat tonight". 70 milion results. 70 million pages committed to helping me figure out this. Most of these results serve information about various businesses through a website that people can find and others can link to. No matter how big or small, no matter the industry, every business just needs to have a basic web presence. So even in the food industry, if you haven't yet created a webpage about your place and some profiles on the social networks, somebody else already did and benefitted from it.
The real challenge is not for restaurant owners to understand why they need an online presence, but rather to acknowledge the opportunities that "doing online right" would represent to their businesses.
Let's look at the famous "One internet minute" infograph (source: www.domo.com).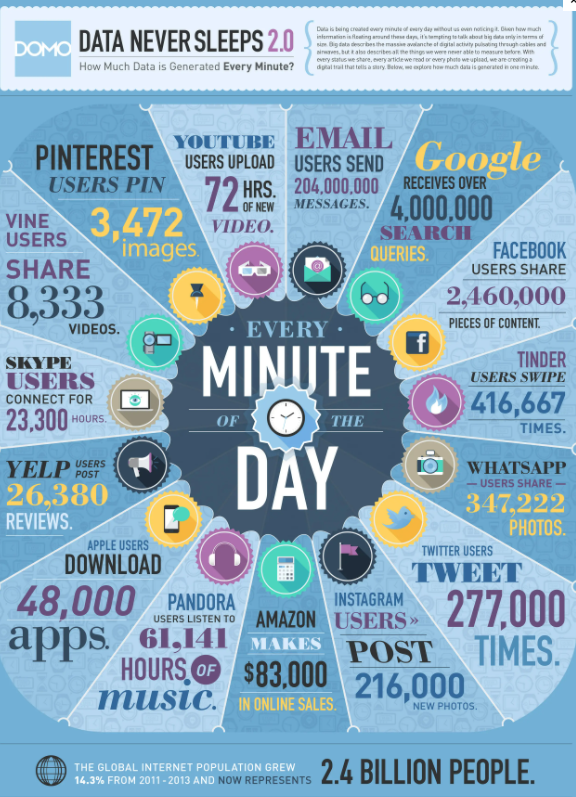 Yes, you only need a micro-fraction of the 2.4 billion to be instantly reachable and learn more about the things you can offer but in order to get there, you have to be part of the conversation with "the holy trinity": website, social networking, online ordering.
Website – You need a website that is clean, appealing and easy to find. Why? Because a clean website reflects your professionalism in the kitchen, the appealing images create appetite and some basics SEO rules guarantee that people can find/ discover you online. Do not overcrowd your website with a lot of things. Mainly people come to learn a few words about you, check the menu, check pictures, get contact details, and see the info about special offers or events. That's the focus. That's what you SEO!
Social networks – An incredible amount of time is spent on social networks. And you should see this as an opportunity, not as a burden. Isn't it incredibly convenient that people love to take pictures of everything they eat and share them with friends? Isn't it great that they rely so much on reviews and recommendations when your restaurant is so appreciated? And isn't it great that they feel this need to be part of communities and groups of people having the same interests? Great, because I'm sure your restaurant has a beautiful story to tell and interesting things to share with its followers.
Online ordering – Yes, people spend more and more money online. Technology has brought e-commerce in our everyday life and habits, and the younger generations have no barriers in adopting new ways of shopping. The food industry makes no exception. About 69% of consumers order food online using a mobile device (Advertising Bureau (IAB) and Viggle), while apps allow users to place orders without even leaving Facebook. It's actually more expensive these days to miss online opportunities than to use the relevant technologies and follow up on them.
In other words…
"Half the money I spend on advertising is wasted; the trouble is I don't know which half." – John Wanamaker
The great opportunities come from the new means of reaching your customers online, which are much cheaper than in traditional marketing.
TV is another classical channel that scores high. But how many of you have the budget for a TV spot? And is it even worth considering TV or local paper when Facebook and Google Ads are so popular for an incomparably lower budget?
We are not suggesting to just cut off traditional marketing from your budget. Flyers distribution, for example, is still cheap and effective and we do encourage it. However, a redistribution of your efforts at least equally between online and offline would probably be a good start-up mix. And it all starts with a proper online presence.
Advantages Of Online Food Ordering System For Restaurants, Cafes, and Takeaways
The food delivery market is changing at an accelerated pace. And as a owner, being online is the way to go when it comes down to expanding your current customer base & boosting your stream of revenue.
Having an online presence makes you "sparkling visible" to clients who'd otherwise never see an ad or hear about your business, and who would probably never come knocking on your restaurant door. So there goes your foot traffic.
However, building an online presence is just like tapping your customers on the shoulder and storytell them all about your great restaurant.
And when you add to the table an easy-to-use feature, like a customer-friendly online ordering system for restaurants, then you've just skyrocketed your chances of boosting sales and increasing your profit margin.
But still, you may ask yourself: "Can't we just be online without online ordering?" Well yes, yes you can. But then you'd be missing out on this huge cash-cow opportunity.
And why should you let it slip through your fingers?
Restaurant owners around the world who are racing to capture new customers have already jumped on board of the online delivering trend.
People have moved on from ordering offline to ordering online because it is easy, convenient and completely transparent.
They can finally say goodbye to the hustle and bustle generated by the old ways of food ordering.
This is what they want. So then, why not give the people what they want?
So do you need more proof? While this is US based, the UK mirrors the same trends
Growing Trends: Online Food Delivery Statistics 2021 [Infographic]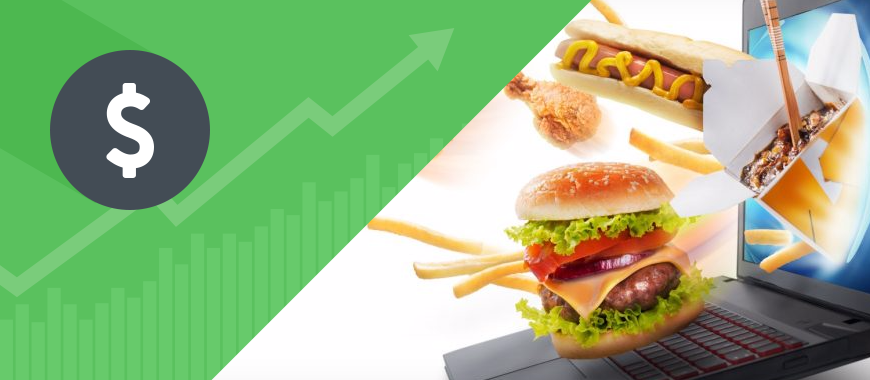 We are living in a digital age in which we are basically doing everything online – including eating. And we have the online food delivery statistics below to prove it.
Maybe we want our food delivered to our doorstep when it's too hot to go outside, or when it's too cold, or when it's raining. Or when we are too busy or too tired to go to the restaurant and wait for the food to be brought to our table.
Recently, the Coronavirus pandemic has become the main reason why people order food online. And restaurants have picked up on that. According to Software Advice, the search for food delivery software has increased 179% on their website between the months of February and March 2020.
However, having restaurant meals delivered to your home is above anything else, convenient. Being able to get food ordered online has become the standard.
Convenience is actually one of the 9 secondary needs that humans acquire during their lifetime:
To be informed
Curiosity
Cleanliness of body and surroundings
Efficiency
Convenience
Dependability/quality
Expression of beauty and style
Economy/profit
Bargains
Scientists back up the fact that convenience is the most important factor influencing food industry statistics.CLICK TO TWEETIn fact, according to Hudson Riehle, SVP of Research and Innovation Services for the National Restaurant Association:
"From the consumer perspective, there's nothing more convenient than having the restaurant come to them.

The off-premise component has been primarily responsible for industry growth over the past decade, and it won't be decreasing into 2018 and beyond."
Nigel Travis, CEO of Dunkin Donuts believes that delivery will turn up to be the holy grail [of the restaurant industry] in the next few years.
Melissa Wilson, principal of Technomic – an important consulting and research firm – says:
"It's a lot of people who do not want to go out to a restaurant for the occasion.

We hear from drivers how often people answer the door in their pajamas."
And according to another research report conducted by UBS called "Is the Kitchen Dead?:
"Online ordering has started to become the norm, thanks to the convenience, accuracy, and ability to integrate payments.

"At scale, ubiquitous on-demand and subscription delivery of prepared food could potentially spell the end of cooking at home."
The following online ordering statistics that you're about to read will certainly change your mind about how blooming the restaurant industry can become.
So how many people order food online? Let's take a look at the infographic below to find out.
Online Food Delivery Statistics

Warren Solochek, president of NPD's Foodservice Practice says:
"Delivery epitomizes convenience, which is the value of using foodservice in the first place.

If delivery fits a foodservice operator's business model and it's operationally feasible, they definitely need to add it on as an option in order to stay competitive."
Similarly, Panera CEO Blaine Hurst also recognized the importance of enabling food delivery:
"Consumers go in and out of habits. If I decide I want to try delivery and they don't have delivery as an option, I'm going to try another restaurant."
So, as you can see, these online food delivery stats reveal a powerful truth: the food delivery trends are here to stay. As a result, the online food ordering industry size is gaining quite the momentum. So make sure you use these online food delivery statistics to improve your customer service and increase sales. If you're also interested, then this is also a great read: Slice of the Pie: Pizza Consumption Trends & Industry Statistics
Interested in next steps? Call 02475 263025 or info@hailservices.co.uk